Good morning! It's Monday, November 19, 2012 – Welcome to #TheFeed!
Read of the Day #1: [INFOGRAPHIC] Most People Think Cell Phone Etiquette is Terrible [via PR Daily]
Slightly disturbing infographic on mobile phone habits and such. Basically, we annoy the crap out of each other with our cell/smartphone usage, harm our education and take them to some disgusting places. Learning lesson – be courteous and Purell your phone.
Read of the Day #2: Dyle Brings Legal, Live TV To Your iPad, With Many Strings Attached [via AllThingsD]
All great journeys start with a single step, right? Then Dyle, an app launching today for iOS, lets you watch some live TV from your iPad. Sure, there are tons of strings attached, an extra device you need to purchase and major program limitations. But this is a major step in tabletizing your TV. [Note: Isn't it weird that while TV sets are growing larger and larger, we're trying to cram the content into smaller and smaller screens?]
Video of the Day: PSY and MC Hammer Rock the American Music Awards
…and then the Internet exploded…
Ecard of the Day: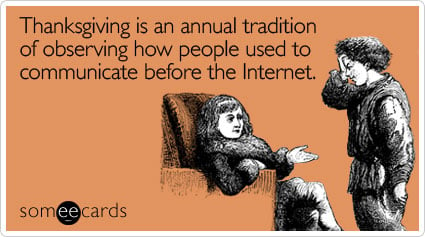 Song of the Day: "Slow Chemical" by Finger Eleven